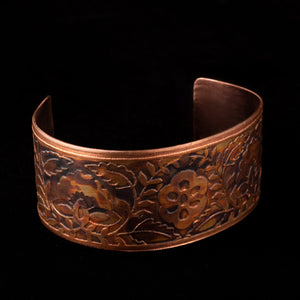 I etched this pattern from my Indian pattern book onto a sheet of copper.
Etching takes a while. I picked out my pattern and copied it onto  special paper. I heated the copper and then burnished the paper onto the metal sheet. The copper was floated in a warmed bath of a mild acid, which etched into the unprotected part of the lines of copper. After the etch was sufficiently deep the metal was put in a neutralizing bath. The blue pattern paper was scrubbed off with a solvent.
The pattern was cut out of the sheet with a jeweler's saw, refined, polished, made smooth and then painted with patina. The patina gives the copper reds, orange, blues and greens.
It is very comfortable on the wrist as well as being unusual and striking.
Dimensions: 5" X 1"