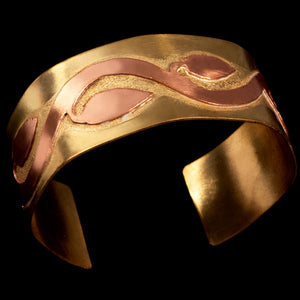 This Copper leaf Indian pattern was cut out using a jeweler's saw from a copper sheet. The pattern is Indian. I filed the copper and smoothed it with sand paper. I filed and polished a strip of brass. The copper pattern was then soldered to the brass back plate. The final piece was smoothed again with sandpaper and then polished. I added some hammer texturing for accent.
The strip was then formed into a cuff bracelet using a steel mandrel to give it the necessary shape.
Dimensions The length is about 6 and 1/4 inches. The width is 1". Since it is an open cuff it can fit most wrists.