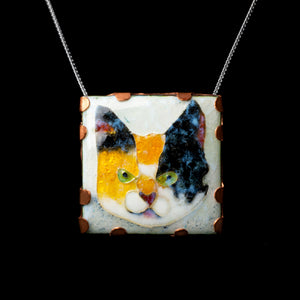 This Cloisonne cat was started in a class I took with Ricky Franks.

Cloisonne is a lengthy process where enamel is placed in cells, created using cloisonne wires. The enamel layers are fired in a kiln to establish numerous layers to give the final piece depth and dimension. I started out with a line drawing of a cat, then chose the colors based on the colored photograph of a cat. This was traced onto the surface of the piece using a special paper. Cloisonne wires were positioned so that they could be filled in with enamels in different colors to achieve the final effect. I used silver and gold foil under transparent enamel to give the cat face more body and character.
I then framed the cat face in a copper frame with tabs bent over to enclose it as well as display it.
This is one of a kind. I wouldn't be able to duplicate it.
The chain is a sterling silver box chain.
A cat lover's dream !
Dimensions Almost 2 inches X 2 inches