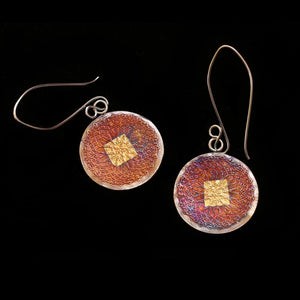 I used a texture I like, to make these Lacy Pattern earrings. The silver clay was pressed into the texture. The rim was cut using a sharp knife. After firing in a kiln for 2 hours, I burnished a square of 24K Gold foil in the center to fuse 999 silver to gold, a process called Keum Boo. Then I painted the surrounding lacy pattern with patina to produce the beautiful orange, blue and purple colors. I left the outer rim silver.
These are very stylish and colorful earrings because of the patina colors. It is hard to predict how the patina colors will turn out.
Dimensions: 1 and 1/4 inch diameter. Sterling silver ear wires. These can be switched to comfortable sterling silver clip ons for an additional charge.