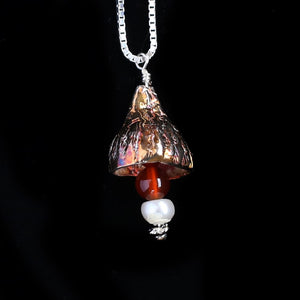 When the oak trees were dropping acorns I got inspired to make several different types of jewelry using acorns.
In this case I created a mold by cutting the acorn in half and pressing the acorn half into mold-making material. I then pressed the silver clay into the mold and let it dry. I repeated the process. This allowed me to get an almost exact appearance of the outer texture of the acorn. After drying the two halves of the silver acorn and joining them, I fired the completed acorn in the kiln. It was burnished with 24K gold foil, an ancient gilding process called Keum boo. This fuses the silver and gold. I painted the outside of the acorn with a little patina to get the autumn coppery color.
I created a dangle for the acorn using pearl and carnelian stone.
This is a lovely petite pendant particularly for those who love oak trees.
Dimensions: Length 1 and 1/4 inches. Almost 3/4 inches across. Sterling silver box chain 16 inches
This is currently at a GALLERY. If you wish to purchase it I can find out if it is available.