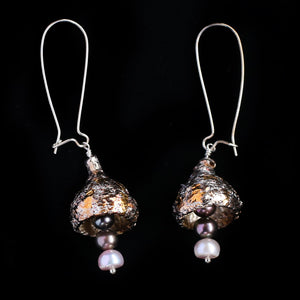 I gathered these acorns from my niece's garden. I picked out two which were almost identical and painted them with pure silver paste over and over again, letting the caps dry completely in between each coat. After 10 coats I let the acorn caps dry again. It was a long labor intensive process.
They were then placed in the kiln and fired for 2 hours at 1645 degrees. The organic acorn cap burned away leaving the outer shell of silver. I drilled a hole in the top of the silver acorn cap. I burnished the cap with 24K gold foil in places to give it a shimmer and painted on some patina for color. Fusing the silver and gold foil is a process called Keum boo.
I created a pearl dangle to hang from the top of the cap.
These are organic looking and charming with the pearl dangle. They are great for evening wear or everyday wear.
Dimensions : 2 and 1/2 inches long from the top of the ear wire to the bottom of the pearl dangle. Sterling silver ear wires with a special snap which keeps them safe.
These can be switched to comfortable sterling silver clip ons for an additional charge.