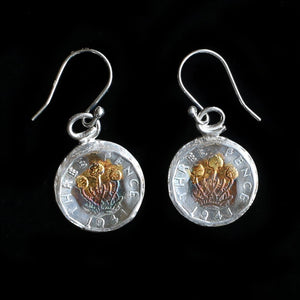 My friend, with whom I started making jewelry, left me two Three Penny Brass Coins amongst other treasures.
They were minted in the UK in 1941.
World War II was causing hardship everywhere. Apparently King George had these minted with the Thrift blossom in the center to remind people that because of hard times they needed to be thrifty. I can't remember where I read this and can't seem to find the reference again but it sounds plausible.
The earrings were made using silver clay, which was fired in a kiln, to emerge as pure 999 Silver. They were burnished with 24K Gold on top of the blossoms. This causes  the 2 metals to fuse, a Korean technique called Keum boo. I painted a little patina on the leaves for accent.
These are really sweet earrings which would complement any outfit.
Dimensions: Diameter 3/4 inch.
Sterling silver ear wires. These can be switched to comfortable sterling silver clip ons for an additional charge.