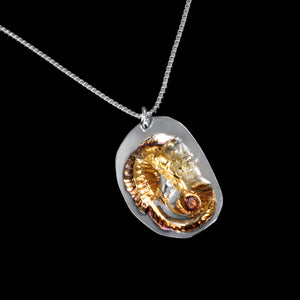 The seahorse pendant was made with Precious metal clay and then fired in the kiln. I used a seahorse mold to get the shape and texture. The finished pendant is pure 999 Silver, burnished with 24K gold. This process is called Keum Boo. The piece was accented with patina.
The box chain is sterling silver.
I find seahorses to be magical creatures which we are fortunate to see at the Monterey Bay Aquarium. They seem shy and come in stunning colors but camouflage themselves in seaweed.
Since we live by the ocean I like to make jewelry which is native to this habitat.

Dimensions 1 and 1/4 inch X 3/4 inches