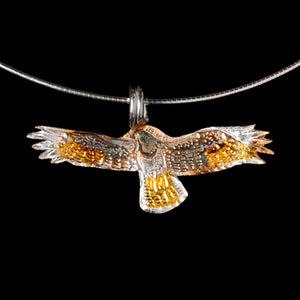 I used silver metal clay to create this hawk from a stamp. I gave it a curled silver baile before I fired it in the kiln for 2 hours. I refined and then burnished the finished pure silver 999 piece with 24K gold. I accented it with patina.
The flight of the hawk is regal and gives the wearer a regal look as well. It sets off any outfit. The detail of the feathers is lovely to behold. 

Dimensions 1 and 3/4 inch wingtip to wingtip x 1 inch long from baile to tail feathers.
Sterling silver 16 inch box chain