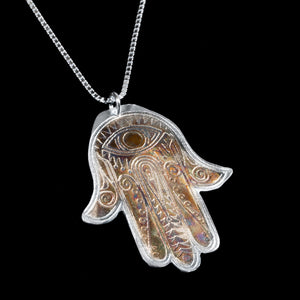 Hamza pendant. The pattern was etched onto sterling silver. I cut the Hamza form out using a jeweler's saw, refined the edges with a file and sandpaper, then polished it. Patina was painted on for color accent.
Etching is a fun, but time-consuming process. You start out with sheet silver.  The design is burnished onto heated metal. The silver sheet is then floated on an acid bath. The exposed metal gets etched with the design. The metal is neutralized in a bath. 
Hamza or Hamesh is a respected symbol in many communities over the world, meant to protect the person who wears it from evil.

The dimensions of the Hamza are 1 and 3/4 inches long X 1 and 1/2 inch wide.
Sterling silver box chain.