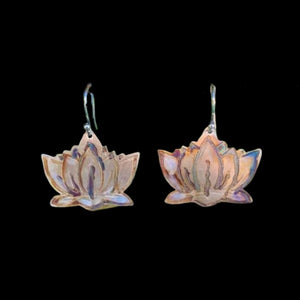 Etching is a fun, but time consuming process. You start out with sheet silver. You choose your pattern, and print it on special paper. You burnish the design on to the heated metal and then peel off the paper. The silver sheet is then floated on an acid bath. The exposed metal gets etched with the selected pattern. The metal is neutralized in a bath. The blue paper is scrubbed off with a solvent.
 I love the way these particular lotus pieces came out of the bath  After sawing both out with a jeweler's saw, they were filed, sanded and the edges were refined till they were smooth. They were polished, then painted with patina which gives them a luminous look.
The saying goes No Mud No Lotus since these beautiful flowers grow in mud. The Sanskrit word is Kamal or Kamala. I saw lotus bud offerings in Thai Buddhist temples. Some were fresh, others were gold. They are said to be the favorite flowers of Buddha. He is often seen in paintings and sculptures sitting on a large lotus.
The lotus is the National flower of India and is the favorite flower of most of the Gods and Goddesses.
Dimensions : 1 inch X 1 and 1/4 inch. Sterling silver ear wires. These can be switched to comfortable sterling silver clip ons for an additional charge.