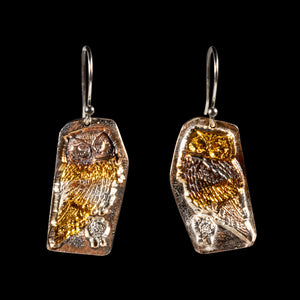 The Earrings are of little owls on a tree branch. They are made using 999 pure silver metal clay, fired in the kiln then burnished with 24K Gold foil, and accented with patina.
The owls are mirror images of each other.

Owls are regarded as wise in Greek mythology. The owl of Athena or Minerva accompanies the Greek Goddess. The owl also reminds me of Owl in Winnie the Pooh, which my mother read to me when I was a child and I then read to my children.
Dimensions 1 and 1/2 inches from the top of the ear wire X 1/2 inch in width.
Sterling silver ear wires. These can be switched to comfortable sterling silver clip ons for an additional charge.
PLEASE NOTE : These are currently at ZFOLIO Gallery and will be available for purchase this weekend.