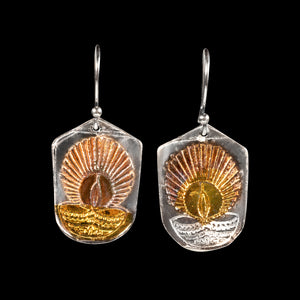 These earrings depict Diwali lamps. Diwali is the Festival of lights, which is at the tail end of October or beginning of November in India. It symbolizes good over evil. These are 999 silver, burnished with 24K Gold foil and accented with patina.
Diwali was one of my favorite festivals every year. It was the end of harvest, the return of Rama and Sita after years of exile. Houses were lit up with earthenware lamps with cotton wicks floating in oil. Thresh holds were decorated with colored powder patterns and lit with lamps. Families and friends would visit each other carrying gifts of savory and sweet homemade snacks. At night there were fantastic fireworks.

The festival and celebration went on for several days.
Dimensions from the top of the ear wire 1 and 1/2 inches X 3/4 inches
Sterling silver ear wires. These can be switched to comfortable sterling silver clip ons for an additional charge.